Pierce declares Celtics as 'team to beat'
PUBLISHED BY
Chris Manning
IN
2009 Off-Season
,
News
ON September 25, 2009 |
0
COMMENTS
---
First KG, now Paul. The Celtics have a liking for talking… a lot. Oh yeah, we hate the Cetlics. So let 'em hear it Lakers Nation
!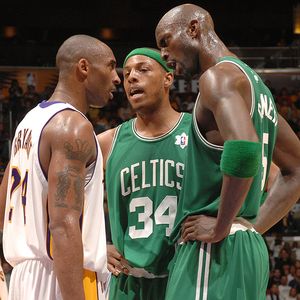 Yahoo
: The Boston Celtics open training camp next week with a new roster and the same confident attitude. Forget that the Los Angeles Lakers are the NBA's reigning champions. Paul Pierce(notes) is already predicting another title for the Celtics – provided, of course, they stay healthy.
"Before the season even started last year, I was asked, 'What is going to stop y'all from winning it all?' " Pierce said in a phone interview on Thursday. "The first thing I said was, 'If we're healthy, we're going to win it all.' And I'm going to say it again: 'If we are healthy, we are going to win it all.'
"I honestly believe that. I think we're the best team in the NBA, healthy."
Pierce was speaking from New York where he was promoting the launch of his new "The Truth on Health" youth initiative. The program includes a web-based club, FitClub34, that provides children with resources to become more active.
Related CoveragePlay Fantasy Basketball '09 More From Marc J. SpearsPierce angry about replacement refs Sep 24, 2009 Curry declares himself the rookie to beat Sep 24, 2009 Poor health doomed the Celtics' own hopes last season. All-Star forward Kevin Garnett(notes) missed 25 games, including the playoffs, because of a right knee injury that eventually required surgery. Role players also were in and out of the lineup as Boston went on to lose to the Orlando Magic in the Eastern Conference semifinals.
Pierce said he barely watched the Lakers beat the Magic in the NBA Finals. After the series was over, he tweeted, "Looked like a German shepherd vs. a poodle. That's OK the Rottweiler Celtics will b back in 2010.